WORLD WAR III
DANNY LENNON'S CARTE BLANCHE
Lac-Brome theater
August 20, 2023
7:00 – 9:00 pm
---
WORLD WAR III (Quebec premiere)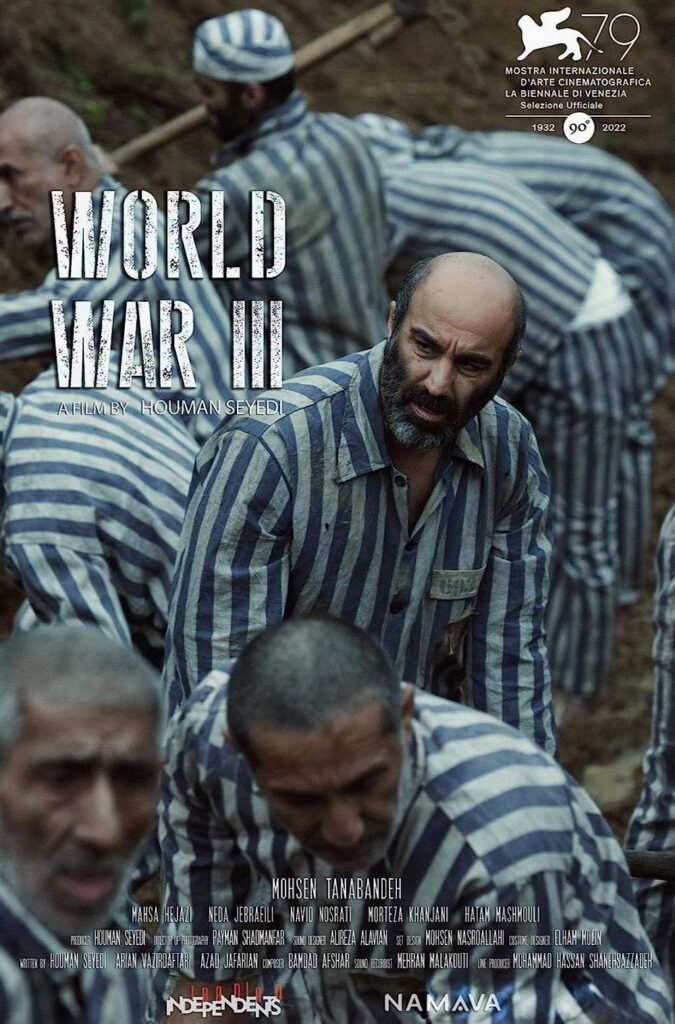 HOUMAN SEYEDI
Drama
Iran (2022)
107 min.
VOA with English subtitles
The 79th Venice International Film Festival, Orizzonti, Italy, 31 August- 10 September, 2022 – Best Film Award – Best Actor Award
Shakib is a homeless day laborer who never got over the loss of his wife and son in an earthquake years ago. Over the last couple of years, he has developed a relationship with a deaf and mute woman, Ladan. The construction site on which he works today turns out to be the set of a film about the atrocities committed by Hitler during WWII. Against all odds, he is given a movie role, a house and a chance at being somebody. When Ladan learns about this, she comes to his workplace begging for help. Shakib's scheme to hide her goes tragically wrong and threatens to ruin his newfound status and what seemed to be the opportunity of a lifetime.
Virtual presentation of the film by director Houman Seyyedi
Born on 29th of November 1980 in Rasht, Houman Seyedi is a prolific director, scriptwriter, editor and actor in Iranian cinema and theater. He's a well-known movie actor in Iranian film and TV industries and has already acted in 44 feature and TV films and series, including Asghar Farhadi's Wednesday Firework. He's running one of the most prestigious film schools in Iran and teaching film acting and has introduced many young actors to Iranian cinema. He made couple of short films before directing his debut feature film, Africa, in 2011 and has received numerous national and international awards for his films as well.
Preceded by the short film 45TH PARALLEL by Lawrence Abu Hamdan (Great Britain, 2022).
Running time: 15 minutes.
Lawrence Abu Hamdan
The "politics of listening" is the specialist subject of Lawrence ABU HAMDAN (1985, Jordan). The Beirut-based artist and audio investigator creates films, installations, graphic design, sculptures, photography, and
performances that explore the intersection between sound and politics. His work received a Nam June Paik Award and Baloise Art Prize, and he is no stranger to Rotterdam: he won the Tiger Award for Short Films at IFFR 2017 for Rubber Coated Steel (2017). His investigations, conducted as part of his PhD research in Forensic Architecture at Goldsmiths College London, have furthermore had a real-life impact when used as evidence at the UK Asylum and Immigration Tribunal and by Amnesty International and Defence for Children International. In 2019, he was one of four recipients of the prestigious Turner Prize.
Danny Lennon
Born in Sherbrooke (Quebec), Danny Lennon is a film programmer known around the world. In 1999, Lennon launched 'Prends ça court!', which celebrates and supports short films from around the world, as well as Canadian cinema. Programmer for more than 60 festivals in Quebec and around the world over the years, programmer of QUEBEC GOLD for the in-flight entertainment on Air Canada for the past 15 years. A programming machine and headache for institutions. Former Film Distributor for Vans OFF THE WALL in California, he was also the programmer and driving force of the Talent tout court initiative, established in 2012 in collaboration with Téléfilm Canada. Formerly one of the programmers for the Coups de coeur section of Cannes Court Métrage (started in 2005) at the Cannes Film Festival. Film curator and distributor for the Phi Centre in Montreal for 10 years. Lennon uses his free time to organise the Quebec Short Film Gala which has given away more than 6 million dollars in cash and services to artists and artisans of Quebec cinema for the past 19 years. Lennon contributes in every way possible to the promotion, distribution, airing and production of independent and professional short films on an international level. As Basta would say: "My rogue feet were made to trample kings". He utterly hates writing bios.