Les oies de Riopelle
Lac-Brome Theater
August 22, 2023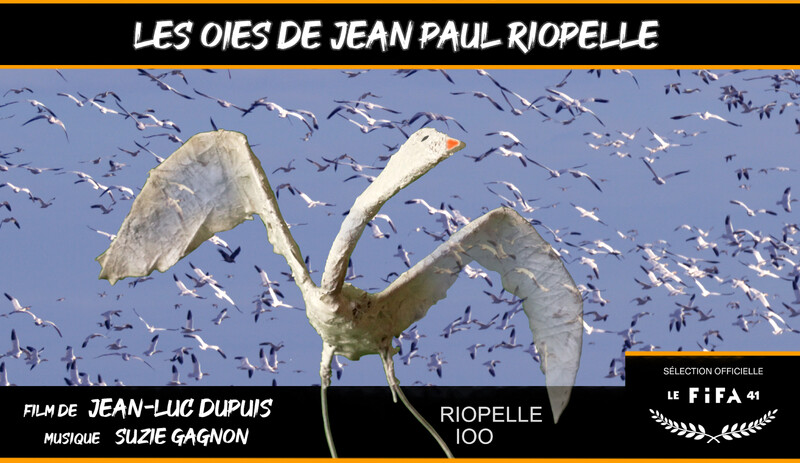 JEAN-LUC DUPUIS
Documentary
Canada (2023)
78 min.
VOF with English subtitles
Inspired by nature, Quebec painter Jean Paul Riopelle developed a fascination for geese, which he often alludes to in his paintings. In this film, the director meets people close to Riopelle, including artist Marc Séguin, his daughter Yseult Riopelle, and his last companion Huguette Vachon, to better understand the painter's fascination with geese, and their influence on his work.
---
PRECEDED BY THE SHORT FILM
Kaléidoscope lyrique
Jonathan Goyette
Documentary, experimental
Canada (2023)
00:07:07 min.
VOF with English subtitles
Kaléidoscope lyrique is executed in the manner of Riopelle, settling down in front of a blank canvas with the dizziness of not being able to see the final result before it reveals itself, obeying only to the calls of vital impetus and intuition. While Riopelle sculpted paint, the film presents frescoes made from inks, chemicals and natural products applied to 16 and 35 mm film, with the underlying desire to transform experimental and abstract material into a narrative poem paying tribute to the oeuvre of the master.
---
Q&A session
with Jean-Luc Dupuis
6:30 – 7:00 pm
Followed by a cocktail with appetizers at Art Lab Galerie (300 chemin Knowlton)
7:00 – 8:00 pm
My father was a doctor with a passion for photography. His photos filled the walls of our playroom. Fascinated, I would spend long moments looking at them, especially the prize-winning ones. One day, I too would see things differently. I was inspired by composition and creation. My career as a doctor took up all my time. One day, an encounter changed my life, convincing me that it's never too late, and to photography was added a passion for filming.